京都市役所裏の押小路通寺町を少し西へ進むとFridge Bicycleがあります。無印良品、プジョー、ルイガノ、ビアンキ、ジオスなどの中古自転車を取り扱ってます。TOKYO BIKE(トーキョーバイク)、BRIDGESTONE(ブリジストン)、電動アシスト自転車、小径車等の新車もあります。レンタサイクルもしています(JPY1,000/日)。
住所:京都市中京区押小路通寺町西入る亀屋町403-2
最寄駅:地下鉄東西線京都市役所前より徒歩1分、京阪三条駅より徒歩10分、阪急河原町駅より徒歩15分
Open: 9:00 to 19:30
Close: 木祝 (Every Thursday & Public Holidays)
Tel/Fax: (075)200-3299
E-mail: fridgebicycle@gmail.com
ぜひ一度お立ち寄りください。ご来店心よりお待ちしております。店主 濱田晋
Fridge Biycle is located on the west side of Teramachi, south of Oshioji, only a 1-min. walk from Kyoto Citihall (Kawaramachi Oike intersection). Reasonably priced bikes (rental & sale) are available.
Bicycle Rental : JPY1,000/day (Good sports bike with speed change)
Second-hand bike : JPY5,000~ (Giant, Bianchi, Louis Garneau, Peugeot, Louis Garneau, Trek, etc...)
We wish to be a good help of your good memory in Kyoto.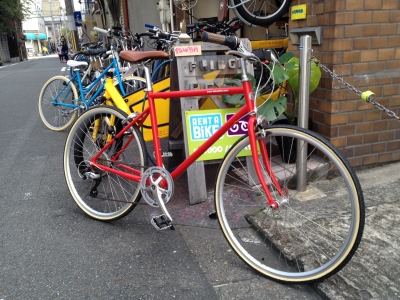 大きな地図で見る